Food insecurity in Ottawa has been exacerbated by the pandemic. Parkdale Food Centre is one of many local organizations that have worked incredibly hard over the last nearly two years to safely provide food to all those who need it. With the support of partners like Carleton Dining, Parkdale Food Centre has been able to not only maintain its service offerings but expand them. Their dignified, people-oriented approach to addressing hunger is helping re-imagine the traditional "food bank".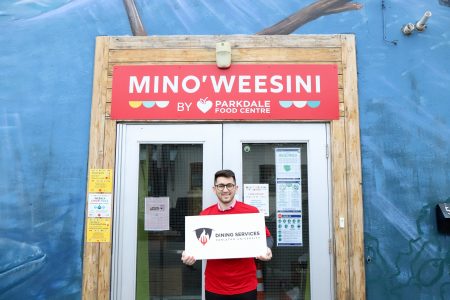 (Pictured: Carleton Dining's Marketing Manager Jonathan Naiberg holding a sign in front of Parkdale Food Centre's new location Mino'Weesini)
Carleton Dining continued its work with Parkdale Food Centre this fall, supporting the opening of their newest location Mino'Weesini. Last year, Carleton Dining was able to support Cooking for a Cause Ottawa, a meal provision program created by Parkdale Food Centre in response to the pandemic, aimed at dually supporting local restaurants and food-insecure community members. Although Parkdale Food Centre is still unable to host in-person programming, the persistent pressures of the pandemic have kept them busier than ever building out their services for Neighbours. This summer, in partnership with the Ottawa Community Food Program (OCFP), Parkdale Food Centre opened Ottawa's first community fridge. OCFP has 7 fridges inside organizations across the city, but only one has been accessible throughout the pandemic.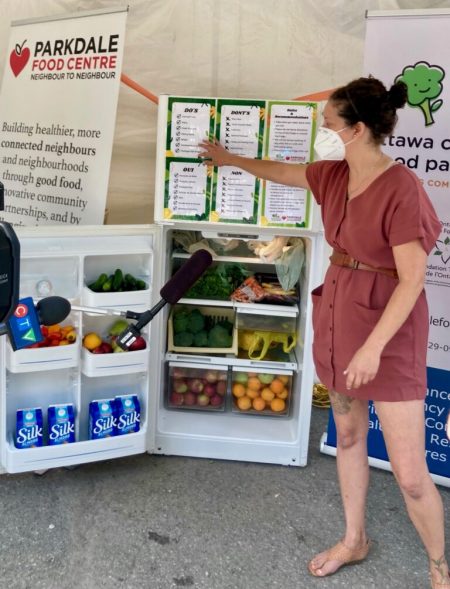 The community fridge outside Parkdale Food Centre is a 24/7 barrier-free resource where individuals can access perishable and dry goods that have been donated by fellow community members. The fridge struggles to stay stocked, serving as a clear indicator of the need that exists. Parkdale Food Centre recently conducted a "Knowing Our Neighbours" survey, where they spoke with over 400 members of the community. The survey found 51% of respondents accessing Parkdale Food Centre's services went hungry in the past 12 months because they could not afford enough food. 
A short documentary film was created to help tell the stories of these Neighbours:
The substantial and growing need for more food provision support, combined with Parkdale Food Centre's evolving service modules, gave rise to Mino'Weesini. Mino'Weesini (an Algonquin word that means 'good eats') is Parkdale Food Centre's newest Good Food Grocery Program location.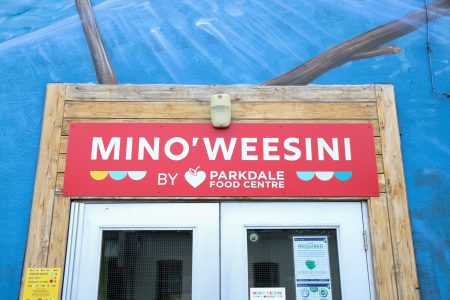 Mino'Weesini has become the home of all of Parkdale Food Centre's food provision services, while community engagement programming continues to be run just a few blocks down the street out of their original location on Rosemount Avenue.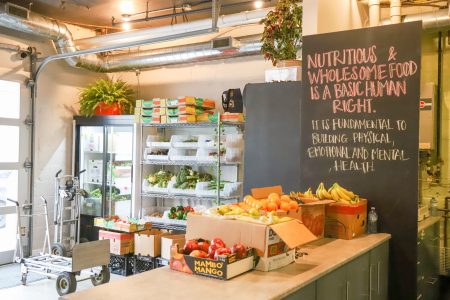 Carleton Dining was able to provide more than $7,000 in grant funds to Parkdale Food Centre this fall, the majority of which went towards the outfitting of Mino'Weesini. The funds helped with the purchase of shelving, tables, and organizational infrastructure. The space and layout of Mino'Weesini have made it easier for Parkdale Food Centre to receive, store and distribute food.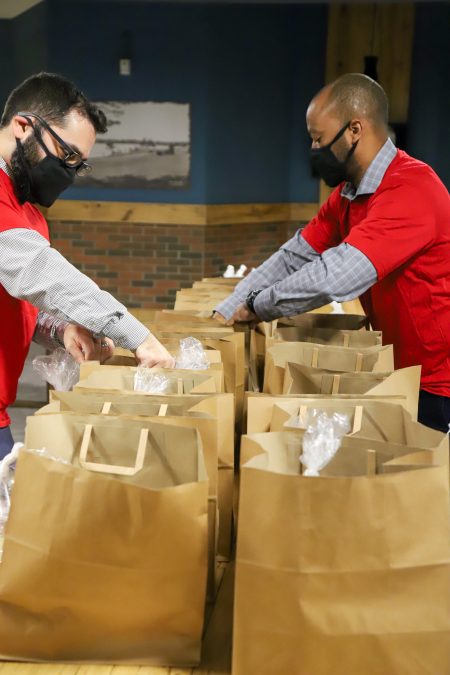 Carleton Dining was also able to partner with one of Parkdale Food Centre's weekly cooking classes, At Home with Anna. Every week, Neighbours across the city virtually prepare a recipe together from their homes with the guidance of Parkdale Food Centre Chef, Anna March. Chef Daniel and Chef Ricci served as guest chefs on At Home With Anna. They designed three unique but simple tofu recipes for the class to help participants develop more confidence in the kitchen with plant-based proteins. A team of Carleton Dining staff helped organize and pack the recipe kits beforehand, which were then delivered to participants. The class was a great opportunity for our team to share their love for cooking and connect with community members.
Carleton Dining is proud to support Parkdale Food Centre in their mission to eradicate hunger in the Ottawa community and look forward to future opportunities where our team can help champion their work.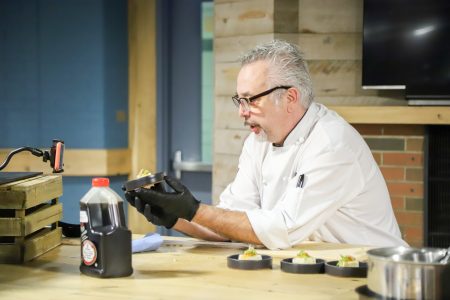 Learn more about Parkdale Food Centre.
Tuesday, November 30, 2021 in General
Share: Twitter, Facebook