Eating at Canada's Capital University is a culinary-driven experience, led by a team of chefs who are passionate about transforming local authentic ingredients into delicious and healthy meals. We are continually refining our ability to offer options that are both exciting and accommodating to dietary needs while taking into account the environmental and social impacts of our food.

Carleton Dining Services' sustainability efforts extend past the food we serve. Our operations are committed to fighting waste in its many forms, using a variety of technologies, programs, and practices. From farm to fork and beyond, the story behind each plate we serve is one of environmental and social stewardship.

Discover how we facilitate a sustainable dining experience at Carleton University by clicking on the buttons above.
Local and Sustainable Ingredients
Investing in the Local Community
We support the Ottawa community by sourcing ingredients from local farmers and producers whenever possible. Our chefs take into account seasonal produce availability when developing recipes, ensuring local offerings are part of our menus year-round. Some of Ottawa's oldest family-run producers, such as Fulton's Sugar Bush and Slipacoff's Premium Meats, provide Carleton's kitchens with ingredients on a weekly basis.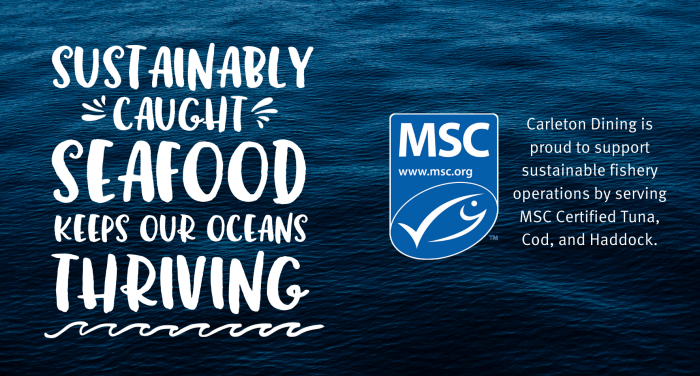 Sustainable Seafood
All wild-caught seafood served in our dining hall, the caf, is MSC Certified. MSC certified seafood is sourced from a fishery which has undergone a third-party assessment that evaluates the fishery's impact on the species being harvested as well as the marine life it shares its habitat with. MSC certified fisheries help ensure the species can continue indefinitely, protecting the livelihoods of current and future members of the fishing industry.
Coolfood Meals
At Carleton Dining Services, we want to highlight those menu items on our menus that have a low impact on our climate, making them a delicious way to help the planet! That's why we have introduced Coolfood Meals! This initiative is implemented through the work of the World Resource Institute (WRI), who through a set of criteria, analyzes our recipes and determines whether they meet the threshold for being a Coolfood Meal!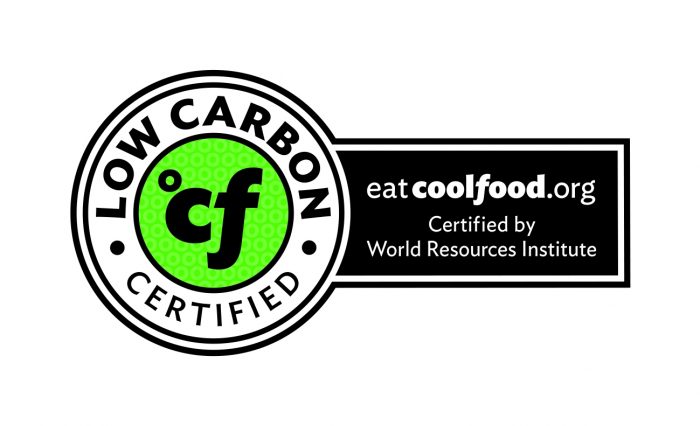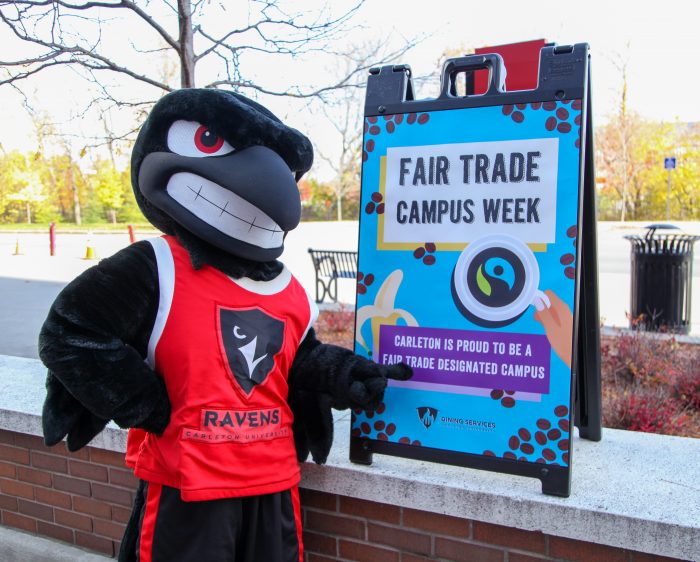 Fair Trade
Carleton is proud to be a Fair Trade Campus. All of our coffee, tea, and hot chocolate is Fair Trade Certified, as well as a selection of sugars, chocolate bars, bananas, and confectionery products. Look for the Fairtrade logo on and off-campus when shopping to identify products produced in a socially sustainable manner. Carleton, along with dozens of universities and colleges across the country, participates in the annual Fair Trade Month. This year, Carleton is celebrating Fair Trade Month by hosting events throughout the second week of October.
Fair Trade Campus Week All-Star
Our successful Fair Trade Campus Week in 2019 won Carleton University the title of Fairtrade Canada's 2019 National Fair Trade Campus Week Challenge Champion! The competition measured social media engagement from campus organizers over the course of the week. Carleton Dining's social media platforms topped out over 70 other participating universities, earning us the title of Fair Trade Campus Week Champions and additional funds towards our Fair Trade efforts on campus!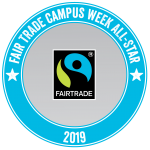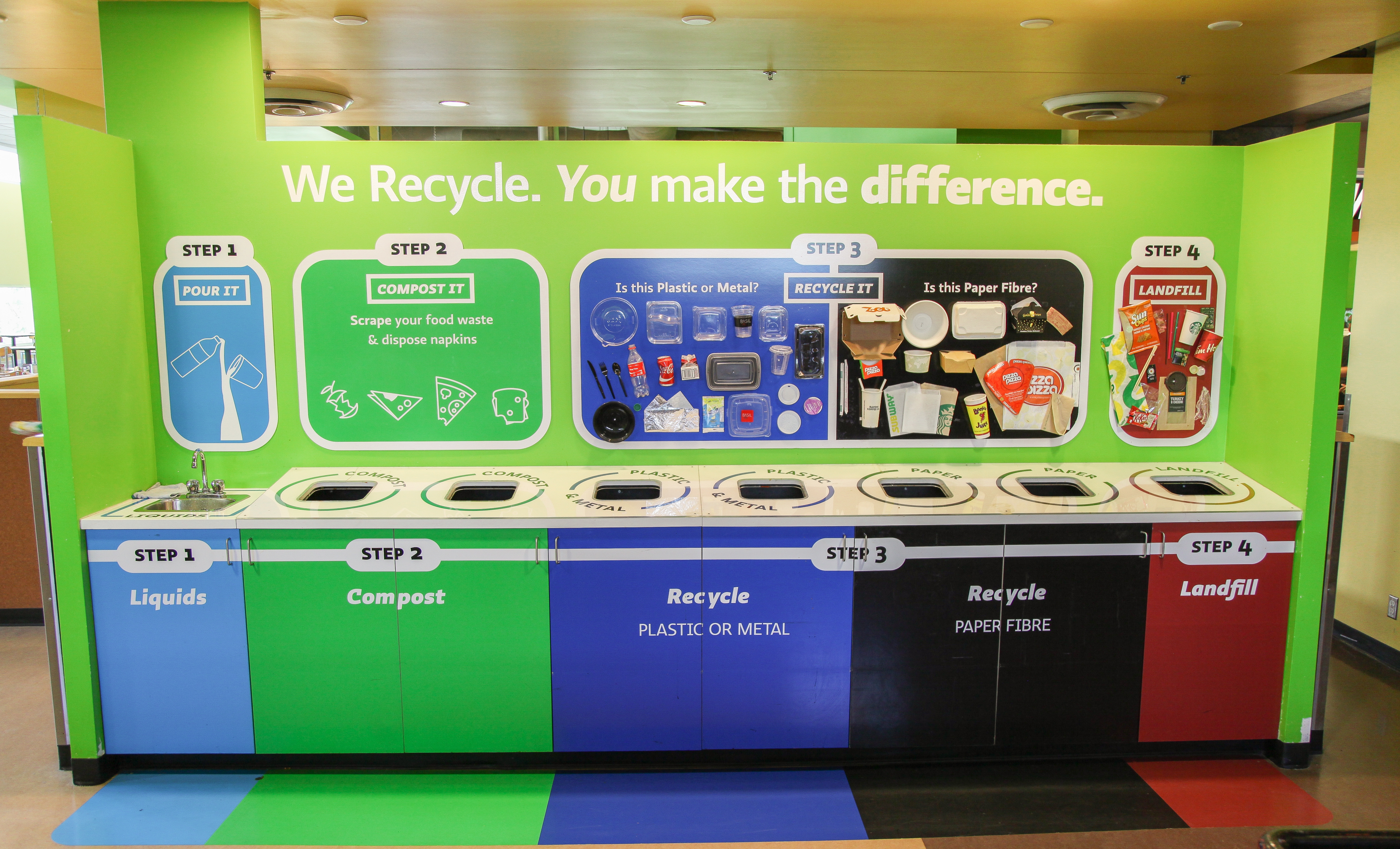 Waste Diversion Walls
We have made recycling easy by installing waste diversion walls across campus. The walls feature a physical piece of each type of packaging used in the dining location, with each piece of packaging hung above the proper waste stream. These visually engaging walls provide all the information a customer needs to correctly dispose of their waste, eliminating the guesswork often associated with recycling. You can find the waste diversion walls at Food Court, Loeb Cafe and Oasis. Have an item not featured on the wall? Check out the University's recycling guide or the City of Ottawa's Waste Explorer to see if your item's waste designation is specified.
How else do we wipe out waste?
Check out our full Waste Reduction page to learn more about how we wipe out waste on campus!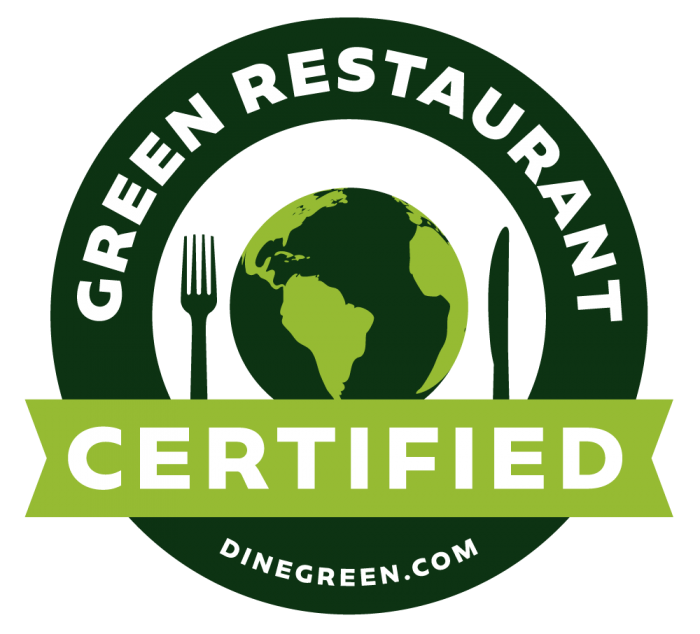 Certified Green Restaurant
Did you know Carleton was the second Canadian University to have a restaurant certified by the Green Restaurant Association? Learn more about how we earned the Certification and what exactly makes our operations so green on our Efficient Operations page!
Efficient Operations at Carleton Dining
Meet Your Sustainability Manager
What we eat matters! My name is Ramona and I'm the Sustainability Manager for Carleton University's Dining Services. I have a Master's degree in Sustainability Management from the University of Waterloo and a Bachelor's degree in Environmental Science from Queen's University.
I'm passionate about supporting local food systems, reducing food waste, and bringing awareness to the environmental impacts of food. If you're interested in learning more about our sustainability initiatives or have ideas about taking our sustainability work to the next level, please don't hesitate to reach out!
Job Opportunities
We offer sustainability internship positions to students over the course of the school year. The internship is focused on educating the Carleton community about the various ways our dining experiences impact the environment. Inquire with our sustainability manager for more details!