Eating at Canada's Capital University is a culinary-driven experience, led by a team of chefs who are passionate about transforming local authentic ingredients into delicious and healthy meals. We are continually refining our ability to offer options that are both exciting and accommodating to dietary needs while taking into account the environmental and social impacts of our food.

Carleton Dining Services' sustainability efforts extend past the food we serve. Our operations are committed to fighting waste in its many forms, using a variety of technologies, programs, and practices. From farm to fork and beyond, the story behind each plate we serve is one of environmental and social stewardship.

Discover how we facilitate a sustainable dining experience at Carleton University by clicking on the buttons above.
Local and Sustainable Ingredients
Investing in the Carleton Community
We support the Ottawa community by sourcing ingredients from local farmers and producers whenever possible. Our chefs take into account seasonal produce availability when developing recipes, ensuring local offerings are part of our menus year-round. Some of Ottawa's oldest family-run producers, such as Fulton's Sugar Bush and Slipacoff's Premium Meats, provide Carleton's kitchens with ingredients on a weekly basis.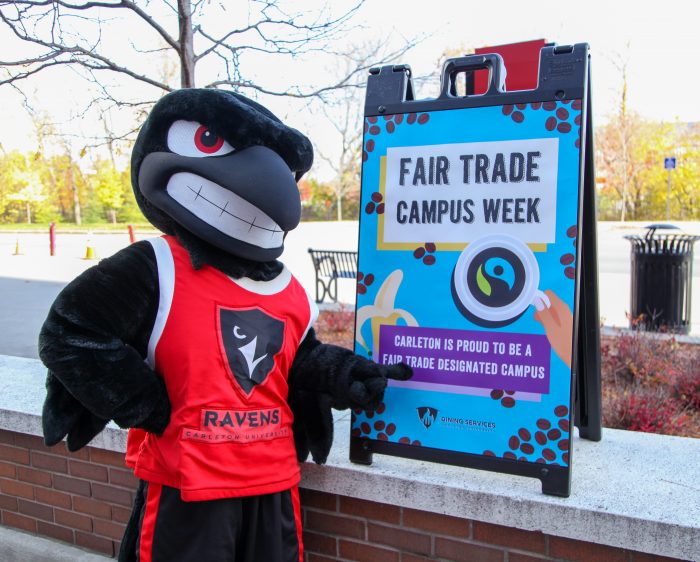 Fair Trade
Carleton is proud to be a Fair Trade Designated campus. All of our coffee is Fair Trade as well as a selection of tea, chocolate, and other products. Look for the Fairtrade logo on and off-campus when shopping to identify products produced in a sustainable manner. Carleton, along with dozens of universities and colleges across the country, participates in the annual Fair Trade Campus Week. The 2019 Fair Trade Campus Week was a huge success at Carleton! Check out photos from FTCW19 here!
Learn more about our Fair Trade journey here.
Sustainable Seafood
All wild-caught seafood served in our dining hall, the caf, is MSC Certified. MSC certified seafood is sourced from a fishery which has undergone a third-party assessment that evaluates the fishery's impact on the species being harvested as well as the marine life it shares its habitat with. MSC certified fisheries help ensure the species can continue indefinitely, protecting the livelihoods of current and future members of the fishing industry.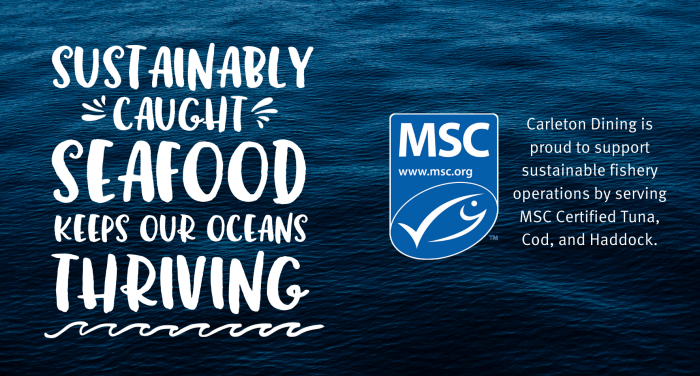 Zero-Waste Facilities
We operate two Certified Zero-Waste facilities on campus: the caf and the Food Court.
These locations are audited by a third-party organization who assesses if waste is being placed in the proper stream (organics, recycling, landfill). 'Zero-Waste' status indicates 90% or more of total waste is being diverted away from landfill.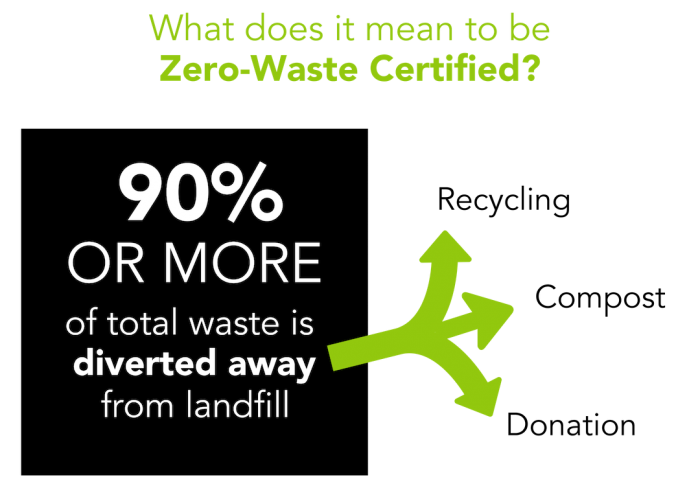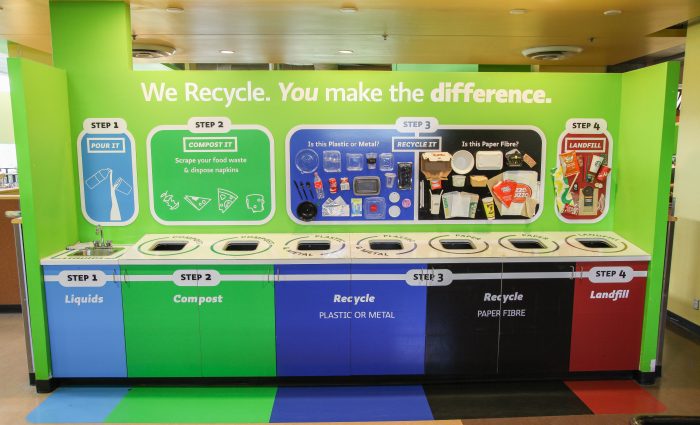 Waste Diversion Walls
We have made recycling easy by installing waste diversion walls across campus. The walls feature a physical piece of each type of packaging used in the dining location, with each piece of packaging hung above the proper waste stream. These visually engaging walls provide all the information a customer needs to correctly dispose of their waste, eliminating the guesswork often associated with recycling.
Locations:
Food Court, University Centre, 2nd floor
Loeb Cafe, Loeb Building. 1st floor
Oasis, Residence Commons, 1st floor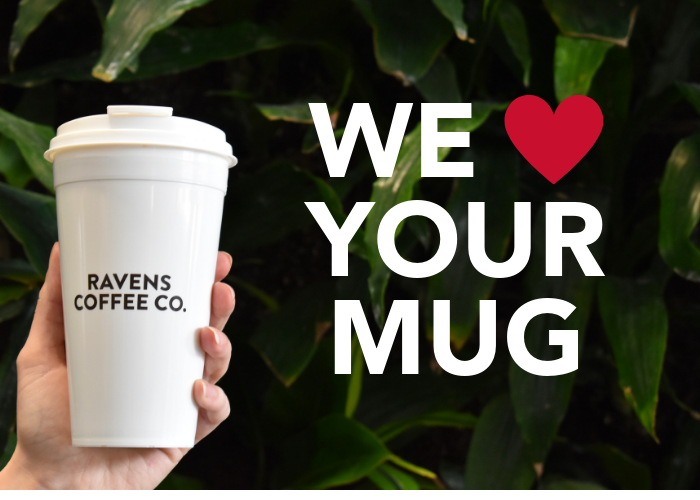 Lug-a-Mug
Coffee cups are the most common item in campus trash cans. Our Lug-a-Mug program helps wipe out waste by incentivizing the use of a personal reusable cup. Bring a reusable mug to any Dining Services location on campus and receive a $0.25 discount! If you buy a coffee every day
with a reusable mug at Carleton Dining Services locations, you'll be receiving a FREE cup of coffee every other week from the Lug-a-Mug savings.
Staff Training
Sustainable operations require fighting waste and inefficiency along every step of our food's journey. That is why it's important our staff is equipped with the tools and knowledge necessary to perform their jobs in an environmentally conscious manner. Carleton Dining Services' staff participate in sustainability training, which provides information about waste, energy, and water reduction.
Recycled Oil
Carleton's kitchens partner with ClearFry to recycle and transform fryer oil into biodiesel, which emits 75% less CO2 and 50% less CO than traditional diesel. Our recycled oil helps fuel more environmentally friendly travel.
Greener Equipment
To help conserve water and energy we source Energy Star certified equipment where possible for all new purchases. Our dishwashing machine outlets conserve water by having low flow nozzles.
Energy Conservation
As part of an ongoing initiative, LED lighting is used to minimize our power consumption used by regular lighting. LED lights use 84% less energy and last 25 times longer than traditional bulbs.
Job Opportunities
We offer sustainability internship positions to students over the course of the school year. The internship is focused on educating the Carleton community about the various ways our dining experiences impact the environment. Inquire with our sustainability manager for more details!
Carleton Sustainability Newsletter
Keep up-to-date with all the latest news about sustainable events, volunteer opportunities, and initiatives happening within the Carleton community.
Please note that in providing your information you agree to Sustainability Carleton emailing a monthly newsletter to your provided email address.
Meet Your Sustainability Manager
Hi! My name is Gabriella Carrier and I am Carleton Dining Services' Sustainability Manager.
The food we eat has a sustainability story and I am here to tell it. That story starts long before the food ends up on our plates and even extends past them as well. I am tasked with helping tell that story and continually advancing the sustainability culture within our dining operations. I love meeting students, hearing their ideas, and answering their questions. If you are interested in learning more about our sustainability initiatives or have ideas about taking our sustainability work to the next level, please do not hesitate to reach out.