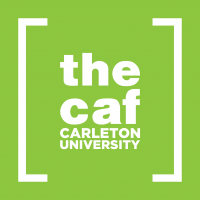 Carleton's Premier Residence Dining Facility
Located on the 3rd Floor of Teraanga Commons (formerly the Residence Commons Building), the caf is an all-you-care-to-eat facility. This year we will be featuring unique stations that will still offer a wide variety of food choice to our students.
Your health and safety continue to be our top priority and we are committed to ensuring that the caf offers a safe dining experience for everyone.
If you are looking for more information regarding the caf's guidelines and policies, click here!
Walk-Ins
the caf is open for walk-ins! We welcome all members of the Carleton University community to dine with us in the caf throughout the school year! If you would like to enjoy a meal at the caf, see below for pricing!
Breakfast: $9.50 (+ tax)
Lunch: $14.50 (+ tax)
Dinner: $14.50 (+ tax)
The Gluten-Free Pantry is open for students!
The Gluten-Free pantry is open throughout the school year! For any student on a residence meal plan with questions or concerns about food and nutrition, relating to food allergies and intolerances or those who require access to the Gluten-Free Pantry during the academic school year, please schedule an appointment with our Registered Dietitian using this link: https://calendly.com/dietitian-appointment.
Dietary Restrictions or Severe Allergies?
We do not use any peanut or tree nuts in our recipes and we do not purchase products with peanuts or tree nuts in the ingredient list. However, please note that there is always a risk of cross contamination due to our open kitchens. Hence, we advise our guests with food allergies to communicate them to our chefs and Registered Dietitian prior to dining at the caf.
For more information on how we accommodate for students with severe allergies on campus, refer to Carleton Dining's Allergen Guide.
Fall Semester 2023 Hours of Operation
Monday through Sunday:
7:30am – 10:00pm