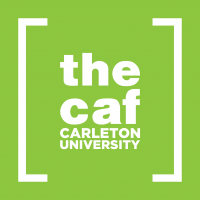 Carleton's Premier Residence Dining Facility
We are excited to have you back in the caf this fall! We have reopened as of September 1st to all residence students. Currently, the caf is not available for walk-in visits.
Indoor Dining Will be Available!
Carleton Dining Services has taken the appropriate measures to ensure a safe and enjoyable dining experience for students in the caf. The changes which have been implemented can be seen below:
In respect to current capacity limitations, the caf will only be open to Residence Meal Plan holders.
In accordance with capacity limitations, there will be a limited number of Residence Meal Plan holders that can be in the caf

at a time.

Table seating will be limited in order to respect social distancing measures. Additionally, tables will feature table-toppers to indicate that the seating area has been properly sanitized and is ready for use.
Our serving stations are set up with plexiglass barriers to minimize contact.
Face masks must be worn in the location and can only be removed once you sit down to eat.
Reusable water bottles are not permitted in the caf.
We have implemented our Boxed Meal Program for residents who might not have a chance to dine in. Simply pre-order your meal 48 hours in advance and pick up in the caf at the scheduled time!
Dietary Restrictions or Severe Allergies?
We do not use any peanut or tree nuts in our recipes and we do not purchase products with peanuts or tree nuts in the ingredient list. However, please note that there is always a risk of cross contamination due to our open kitchens. Hence, we advise our guests with food allergies to communicate their food allergies to our chefs and registered dietitian prior to dining at the caf.
For more information on how we accommodate for students with severe allergies on campus, refer to Carleton Dining's Allergen Guide.
The Gluten-Free Pantry is Back!
The Gluten-Free Pantry will be re-opening this September! In order to gain access, please schedule an appointment with Carleton Dining Service's Registered Dietitian so that we can provide you any necessary accommodations.
We are SPE Certified!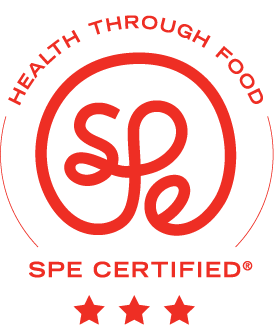 We are proud to share that the caf is recognized as the first 3-star SPE Certification at a Canadian university! This certification acknowledges our commitment to nutrition, sustainability and to our customer's well-being!
Carleton's Dining Services will always look to offer sustainable ingredients, healthy culinary techniques, and balanced menu options for all students. Click here to learn more about SPE-Certification and how our food makes a difference!
Raven's Choice Program
Craving a taste of home? Wishing a specific dish would be on the menu at the caf? Submit your recipe through our Raven's Choice program, and your dish may be featured in the caf!
Reading Week 2021 Hours of Operation
the caf is ready to serve all students living on residence! We can't wait to see you.
From Friday, Oct. 22nd until Sunday, Oct. 31st – 7:30am to 8pm