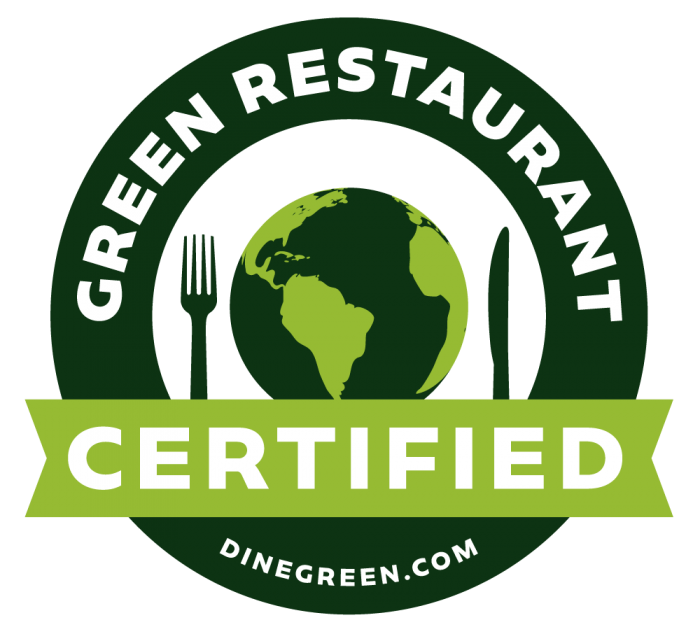 Certified Green Restuarant
Carleton's dining hall, the caf, is a 3-Star Certified Green Restaurant. The Certification, developed by The Green Restaurant Association (GRA) provides standards for restaurants on sustainable facilities and operations. It includes seven major areas of focus: Energy, Water Efficiency, Waste Reduction, Sustainable Food, Chemical & Pollution Reduction, Disposables, Building Materials. As Carleton Dining advances its culinary and facility operations, we are continually reviewing the GRA standards for opportunities to minimize our environmental impact.
Learn more about our work relating to some of these areas of focus below.
A Well Trained Team
Sustainable operations require fighting waste and inefficiency along every step of our food journey. That is why it's important our staff is equipped with the tools and knowledge necessary to perform their jobs in an environmentally conscious manner. Carleton Dining Services' staff participate in sustainability training, which provides information about waste, energy, and water reduction.
Oil Filtration & Recycling
Carleton's Dining Services has partnered with Filta, a company specializing in fryer oil filtration and recycling. Through this collaboration, our used fryer oil undergoes advanced filtration by Filta, transforming it into biodiesel that is used to power vehicles!
By effectively filtering our fryer oil, we significantly reduce waste while simultaneously enhancing the taste in the kitchen. Filta's drain maintenance service also prevents harmful chemicals and waste from entering the waterways. These processes uphold our environmental responsibility and elevates the quality of our food preparation.
Fewer Trucks on the Road
We recycle. A lot. To cut back on the number of trucks necessary to haul away our recycling, Carleton installed a new waste compactor at Nideyinàn. Compactors tightly pack waste together, leaving more space in the dumpster and time in between pickups by haulers. With fewer trips to the recycling processing facilities, the compactor also reduces emissions and sound pollution created from those trips.
Lights that Last
As part of an ongoing initiative, LED bulbs are replacing incandescent bulbs to minimize our lighting's power consumption. LED bulbs use 84% less energy and last 25 times longer than traditional bulbs.
Green Cleaning
Our daily cleaning program uses environmentally preferable and Green Seal certified products by Diversey.