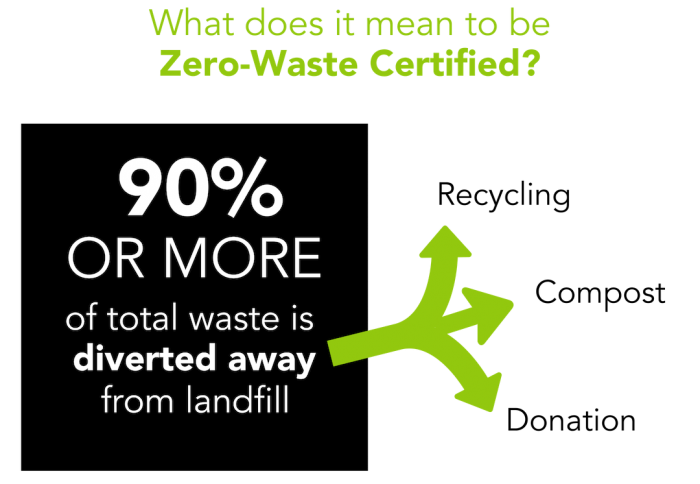 Zero-Waste Facilities
We operate two Certified Zero-Waste facilities on campus: the caf and the Food Court.
These locations are audited by a third-party organization who assesses if waste is being placed in the proper stream (i.e. organics, recycling, landfill). 'Zero-Waste' status indicates 90% or more of total waste is being diverted away from landfill.
How do we achieve zero-waste?
Waste Diversion Walls
We have made recycling easy by installing waste diversion walls across campus. The walls feature a physical piece of each type of packaging used in the dining location, with each piece of packaging hung above the proper waste stream. These visually engaging walls provide all the information a customer needs to correctly dispose of their waste, eliminating the guesswork often associated with recycling.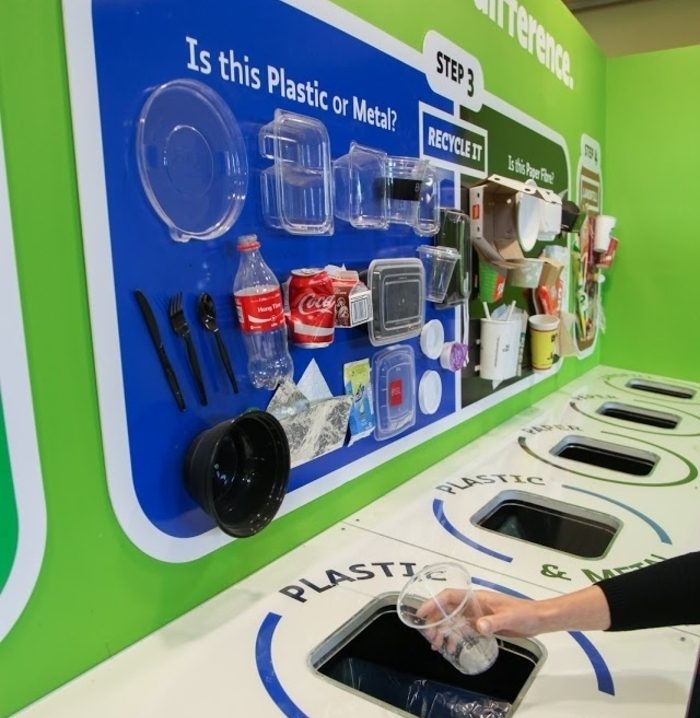 Locations
Food Court, Nideyinàn, 2nd floor
Loeb Cafe, Loeb Building. 1st floor
Oasis, Teraanga Commons, 1st floor
Have an item not featured on the wall?
Check out Carleton's recycling guide or the Waste Explorer to see if your item's waste designation is specified.
Packaging and Tray-Free Dining
Eating at the caf is a packaging-free experience. The dining hall also does not utilize trays, prompting customers to be more selective about the amount of food they serve themselves on one plate.
On average, the removal of trays reduces food waste by 25-30% per person.
Composting
All of the food waste coming out of our kitchens is sent to an organics facility for composting. The food is transformed into nutrient-rich material to be used by farmers as fertilizers.
Did you know?
Instead of composting, our Starbucks Page Break location gives away free coffee grinds during the summer to be used as a natural fertilizer for people's gardens.
Leanpath
Our kitchens are equipped with a food waste tracking program known as Leanpath, which utilizes a scale and camera to provide real-time information about the waste we are producing. Based on recent Leanpath data, our team identifies the largest opportunities for waste prevention and creates waste prevention goals for those specific food items.
Since the system's implementation, the average amount of pre-consumer waste produced by our dining hall kitchen has decreased by 84%.
Surplus food is an inevitable feature of our operations.
What's not inevitable?
That food's final destination being a waste bin.
Nearly 60 percent of food produced in Canada – amounting to 35.5 million metric tonnes – is lost and wasted annually. Of that, 32 percent – equalling 11.2 million metric tonnes of lost food – is avoidable and is edible food that could be redirected to support people in our communities.

The Avoidable Crisis of Food Waste, Second Harvest Technical Report
Food Donation - Made Easy
Canada's largest food rescue organization, Second Harvest, developed an online platform known as FoodRescue.ca that connects businesses with excess unsold food to local social service organisations who will put it to great use! Carleton Dining has utilized FoodRescue.ca to establish recurring weekly donations for items such as all of our unsold to-go Express meals.
Strengthening Ottawa's Food System
Through FoodRescue.ca, Carleton Dining has been able to keep over two thousand equivalent meals out of the compost bin and instead into the hands of people who need them most. FoodRescue.ca has provided us with the opportunity to foster partnerships with recipient organizations, such as The Boys & Girls Club of Ottawa and Somerset West Community Health Centre. These partnerships further Carleton Dining's inter-connected relationships within Ottawa, strengthening the overall resiliency of Ottawa's food system.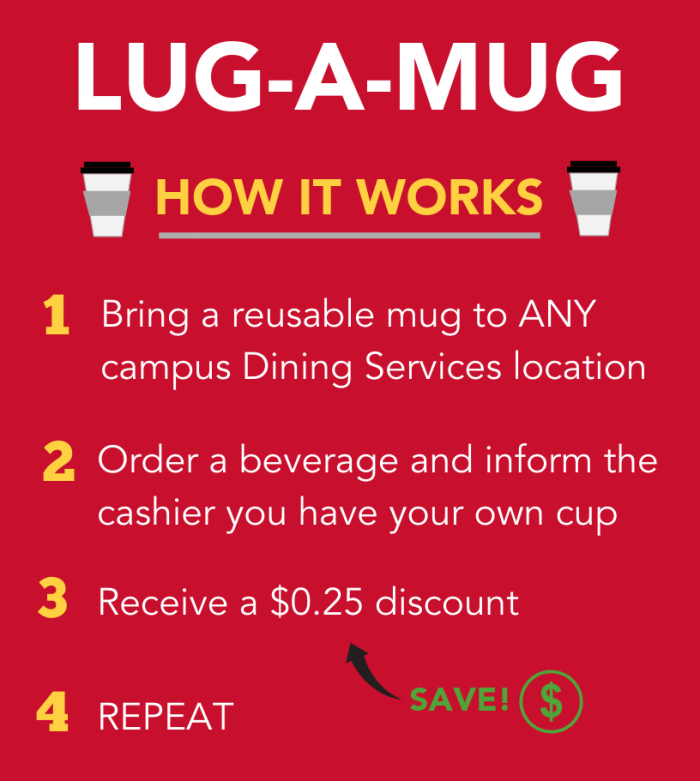 Lug-a-Mug
Coffee cups are the most common item in campus trash cans. Our Lug-a-Mug program helps wipe out waste by incentivizing the use of a personal reusable cup. Bring a reusable mug to any Dining Services location on campus and receive a $0.25 discount! If you buy a coffee every day
with a reusable mug at Carleton Dining Services locations, you'll be receiving a FREE cup of coffee every other week from the Lug-a-Mug savings.
Ravens Coffee Co.
For only $1 you can wipe out coffee cup waste! Ravens Coffee Co. travel mugs are available for purchase at the following locations across campus:
Tunnel Junction
Food Court
Loeb Cafe
Bent Coin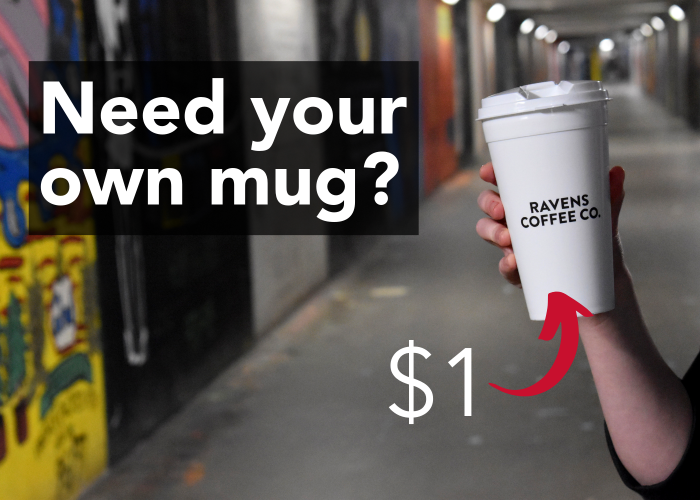 One Bottle. Unlimited Beverages.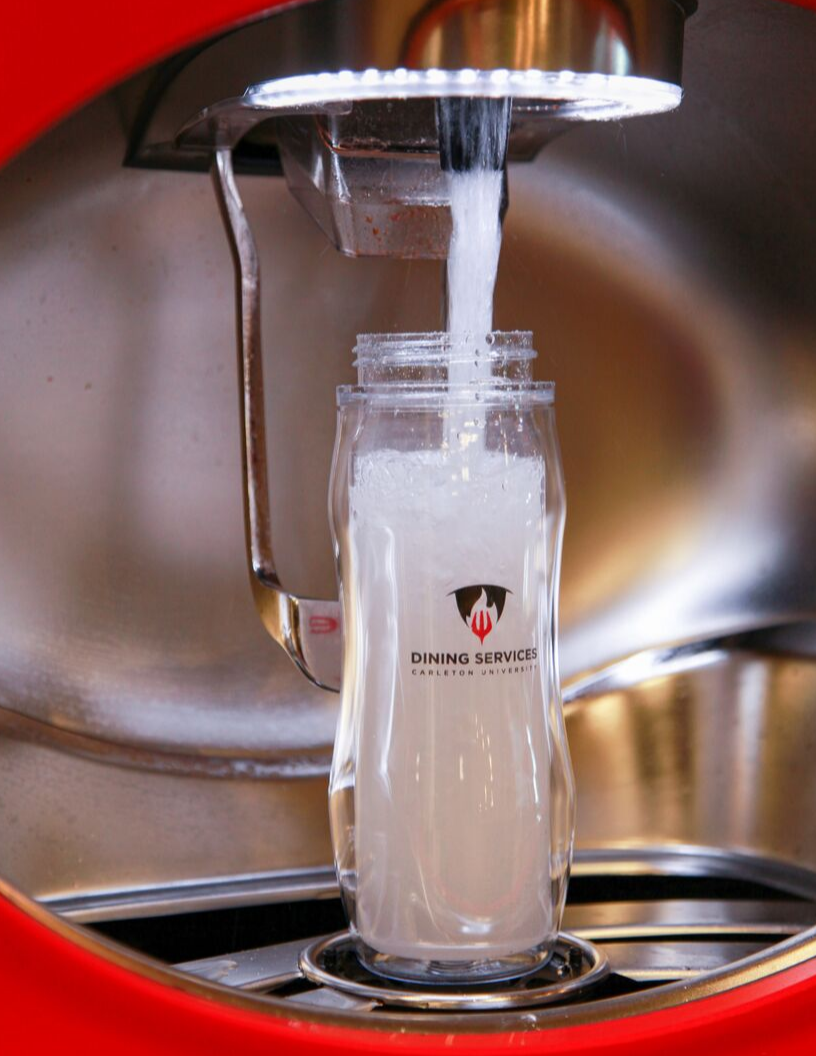 Carleton is Canada's first university to use ValidFill technology in their Coke Freestyle machines to reduce single-use plastic cup waste! The Freestyle machines in Oasis and the Food Court have been retrofitted with scanners that read RFID chips. Carleton Dining now sells reusable bottles with an RFID chip in the bottom, and each bottle's chip is loaded with a full semester's worth of unlimited beverages. The ValidFill program makes it easy to reduce plastic cup waste while also providing a great deal for those who are frequent consumers of cold drinks. Loaded reusable ValidFill bottles can be purchased in the Food Court or Oasis for only $34.99! Stay hydrated sustainably this semester and get your own ValidFill bottle today!
ValidFill Locations:
Food Court
Oasis
218,700 straws and counting
Since beginning the plastic straw phase-out in the fall of 2018, we have kept more than 218,700 plastic straws out of landfills and local ecosystems.
In the fall of 2018, Carleton University announced its 'Say No Thanks To Straw' campaign. The campaign brings awareness to the problem of single-use plastic waste and initiated the transition from plastic to paper straws at all proprietary dining locations. Carleton Dining Services has switched from plastic straws and plastic flat lids to paper straws and plastic sip lids. Unlike most plastic straws, paper straws are recyclable. Sip lids combine the features of a lid and straw into one product, reducing overall waste.