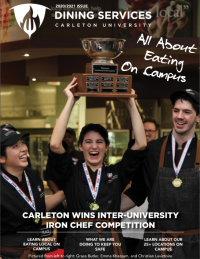 We're excited to announce that this year's Dining magazine has been published! Click here to check it out now.
This year our magazine has gone fully digital, includes links to videos and additional content, and has a lot of useful information for both new and returning students. We hope you enjoy it!
Here's just a taste of what's included in this year's magazine:
What's changing due to COVID
Our dietary labeling guide
We're excited to talk about our 2nd consecutive Inter-University Iron Chef Championship!
What we're going about sustainability on campus – and how you can help
And much more!
Click here to read the 2020 Dining Services magazine!
Thursday, August 13, 2020 in General
Share: Twitter, Facebook