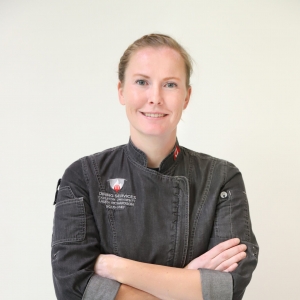 Laura Richardson
Lead Sous Chef
Biography
Chef Laura was born in Edmonton, raised in Ottawa and spent a few years during high school in North Carolina. Currently, she is the Lead Sous Chef at the Food Court in the University Centre. Laura has been in the culinary industry for almost 15 years and is a Red Seal Certified chef. In addition, she also holds a diploma in Nutrition Science.
After graduating from the Culinary Management Program at Algonquin College, she moved out west to work for Delta Hotels in Sun Peaks B.C. where she spent 5 years cooking and living at the ski resort. After her time in BC, Chef Laura moved to Calgary where spent the next 5 years developing and fine-tuning her culinary skills in hotels, restaurants and retail establishments.
Some of her proudest moments include working at Calgary's #1 fine dining restaurant, where she was a team member for a Bocus D'Or event. She was also proud to successfully sponsor 2 young apprentice chefs in Calgary.
During her off days, you can find her exploring the outdoors with her dog, Luna.  She also enjoys travelling the world to experience different cultures and cuisines.  Some of her favourite backpacking trips include India, Australia, Europe and Peru.