Carleton University wins Inter-University Student Iron Chef competition two years in a row!
Pictured: Carleton's Student Iron Chef Team winning the championship title from left to right: Grace Butler, Emma Khazzam, and Christian Lavictoire
Carleton hosted the 7th annual Inter-University Student Iron Chef Competition where universities as far as Massachusetts to the Maritimes traveled to Ottawa for a weekend of friendly culinary contesting. A total of five teams participated, including Dalhousie University, McGill University, UMass Amherst, University of Ottawa and Carleton University. Each team had two hours to prepare both an appetizer and an entrée. All teams had access to an expansive pantry of ingredients as well as a unique Black Box of ingredients they selected the night prior to the competition.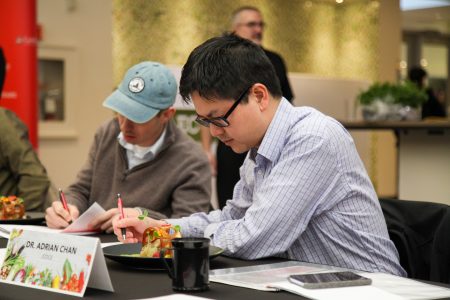 Dishes were scored on taste, plating, originality and technique. Our panel of judges included: Dr. Adrian Chan, a professor of engineering from Carleton University and amateur chef, Matt Vandenberg from Rideau Pines a local farm & Yannik La Salle from Les Fougères in Chelsea, Québec. Yannick was named 'Best Chef in Canada' after winning gold at the Canadian Culinary Championships in Kelowna, BC.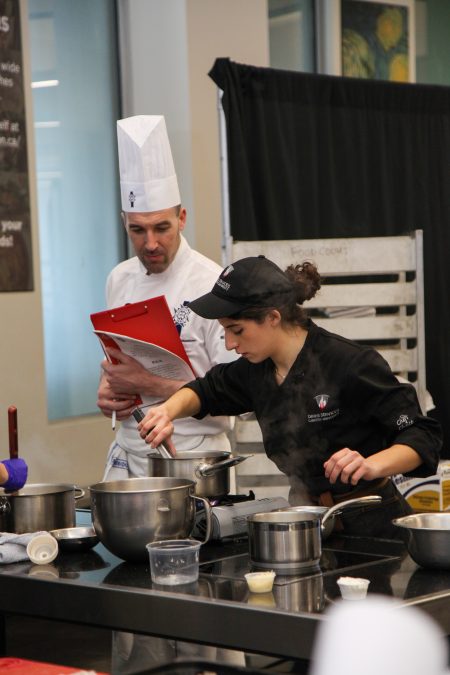 In addition to having their final product judged, the teams were evaluated on culinary technique during the preparation period by Emmanuel Duranteau, a Chef Instructor from Le Cordon Bleu.
Our Dishes
Appetizer: Pounded Lamb Carpaccio / Homemade Curry Aioli / Pickled Mustard Seeds / Spiced Mini Cucumber / Black Walnut Brittle / Marinated Red Onion / Spiced Gougère / Fried Arugula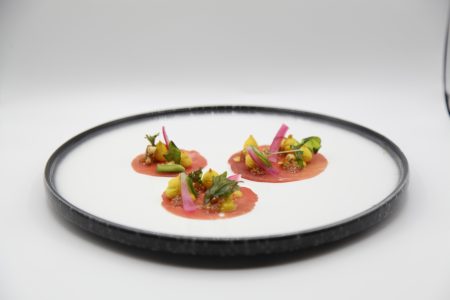 Main Course: Pickerel with Crispy Double-Smoked Bacon "skin"/ Herb & Tofu Soubise / Crispy Potato / Caribou Moss / Seared Le Coprin Mushrooms / Fried Ox-Eye Daisy Buttons / Orange / Pickled Radish / Sea Buckthorn & Raspberry Coulis / Marinated Yuzu Rind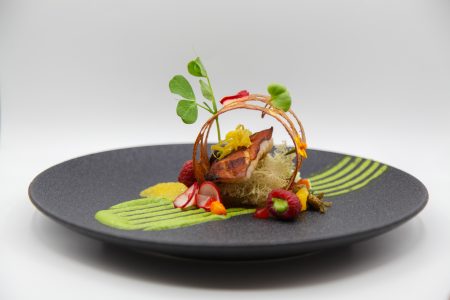 The award for Best Appetizer went to the University of Ottawa who prepared a deconstructed Tandoori Lamb Samosa, topped with a Sea Buckthorn Berry Caviar, Cilantro Lime Sauce and garnished with Crispy Basil Raita, Pickled Red Onions, and Mini Cucumber.
Carleton's winning team was comprised of Food Science students, Grace Butler, Emma Khazzam, and Christian Lavictoire. Luke Baxter, Carleton Dining Services' Lead Sous Chef, assisted the team as a Chef Coach. We brought home the trophies for Best Main Dish and Best Overall. We are incredibly proud of our team's hard work and performance. The students' preparation for the event was evident; and despite the intensity of the event, they maintained a spirit of fun throughout the weekend. Thank you to all members of the Carleton Dining Services team who helped make our hosting of the Inter-University Student Iron Chef Competition a success!
Check out the full photo album on our Facebook Page!