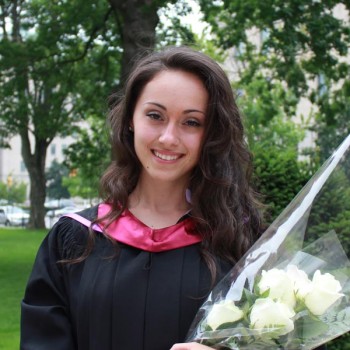 My name is Jane Skapinker, and I am the first registered dietitian at Carleton University! I started here as an intern with dining services through Aramark, and recently came on full-time. I went to Western and graduated with a Bachelors of Science with an Honors Specialization in Foods and Nutrition. Why nutrition? For me, it was a perfect cocktail of all of the things I love. It incorporates a lot of science, educating people, always learning new things and keeping up with trends, helping people, and most importantly food.
Since I have a travel bug that I can't seem to shake, I love travelling and learning about different cultures, their cuisines, and their traditions. When I learned that Carleton's student population is made up of 12% international students, I knew it was the place for me. Dream job? Taking the Food Network's Diners, Drive-Ins and Dives international!
Back to the real world though, I've spent the last year completing rotations in different areas of dietetics to learn about all the facets of the profession including public health, clinical, and food service management, and the last endeavor was with dining services at Carleton learning the business and industry perspective. This time I am here to stay! I hope to meet as many of you as possible, and work towards making this beautiful campus even more delicious and nutritious.
Cheers,
Jane