By Carleigh Reynolds
Me, like you've never seen me before: In actual photos
Hello, Ravens! My name is Carleigh and since September, I've been your Campus Food Ambassador.
If you haven't met me yet, this is me. Since I'm usually the one taking the photos, I don't appear in many. I'm a fourth year Communication and Media studies student that has both a sweet tooth and a health kick. I can be spotted around campus eating in class or trying to find the best lighting to photograph a sandwich.
But what does it mean to be a Campus Food Ambassador?
Well, the position is meant to bridge the gap between students and Carleton Dining Services. My day-to-day responsibilities change, depending on what's happening, but I'll outline a few of them.
First, I collect feedback from students. I enjoy chatting with students about what they think of the food. People also reach out to me over social media and email. I think it's easier for students to pass along comments this way because it's much more informal compared to say, filling out a form. It also gives me the opportunity to ask for clarity and more detail. I record, compile, and code all of the questions and concerns that I'm made aware of. Then, I pass the information on to Dining Services so they can track what students are thinking and make improvements. So far, this feedback has led to a lot of real changes, including bringing back the green tea ice cream in the caf. I think it's amazing that students are willing to ask questions about what they're eating.
Second, I regularly post on my Instagram account to show students what exciting food options are available on campus and in the Ottawa community, while also showcasing my attempts at cooking and other milestones in my food journey. The purpose of my account is to convey that student food doesn't always have to mean instant ramen. Beautiful, tasty, filling, and insta-worthy food can be found on University campuses at a student-friendly price point.
Third, I write articles. As another method of keeping students in the loop, I interview industry professionals on the food on campus and edit the content into an article for the Dining Services website. I try to make sure that the information is digestible to students—pardon the food pun— while also being educational. I've chatted with a personal trainer on how students can get fit, talked with Carleton's two dieticians on what to eat before an exam, and asked the caf's Executive Chef if pineapple belongs on pizza. You know, the hard-hitting questions. I've learned a lot from these conversations as well. They've been an opportunity to learn about jobs in the food industry that I wouldn't have known about otherwise.
On top of all that, I get to do a ton of other cool stuff. I get to experiment with weird food hacks (like the pancake wrap). I got to ride the smoothie bike for fair trade week, help with focus groups, be one of the judges at the Iron Chef competition, recruit students for the caf's video series, and host a Snapchat takeover.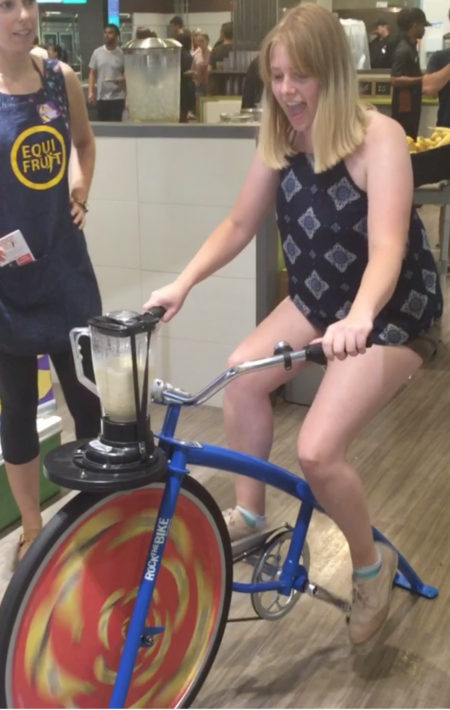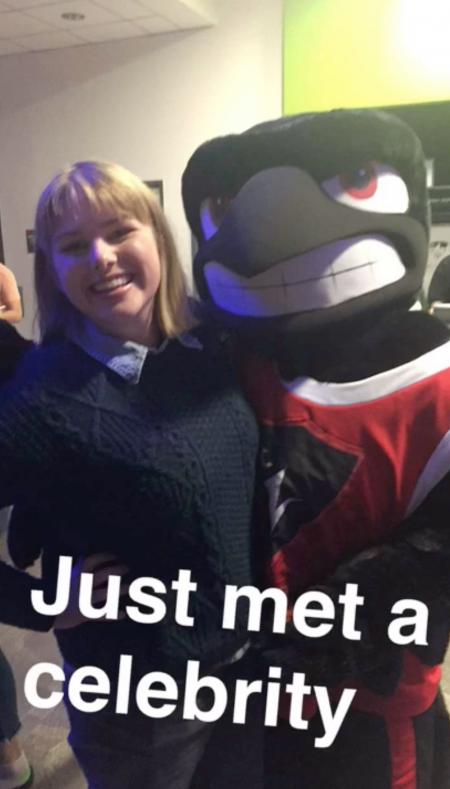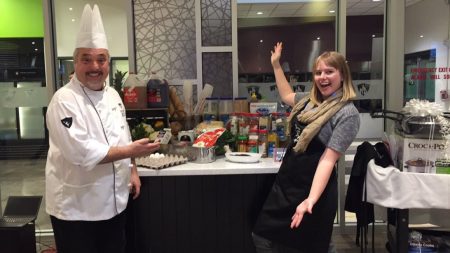 All of these opportunities and experiences have really made my fourth year unforgettable. They have allowed me to grow my portfolio and my professional network. I have learned a ton about the industry and become more conscious about healthy and sustainable food choices. Taking so many food pics has made me a better photographer and interacting with so many students and professionals has made me more outgoing. Through this position, I learned to engage with food on a much deeper level and it became a really important and powerful part of my identity and self-expression.
If this sounds like your dream position, I have great news: I am graduating. I know it will be tough to step down from such a creative position in April, but I am very excited to see who the newest Campus Food Ambassador is in Fall 2018 and what they bring to the campus.
If you're interested in applying for the fall please contact Sandra at Sandra.nelson@carleton.ca before April 30th. Include with your email a brief letter of detailing why you want to be the 2018-19 Food Ambassador and a portfolio or sample of your work (written and/or visual). Please note: this opportunity will only be open to students living in residence for the 2018-19 school year.
As always, munch on, Ravens!
Tuesday, April 10, 2018 in Carleigh, General, Student Food Ambassador
Share: Twitter, Facebook