Ontario Roasted – Fair Trade – Organic
We have a passion for shaping how people enjoy coffee, and it all starts with the perfect bean. Ravens Coffee Co. coffee beans are sourced from the world's finest coffee growing regions. Our two blends – Ravens Dark and Batch 42 are single origin, top quality beans, sourced from Ethiopia and Columbia.
Our coffee is Fairtrade Certified and Organic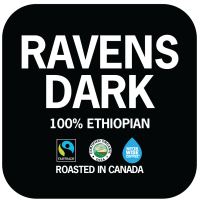 What does this mean?
Fairtrade is a movement for change that works directly with businesses, consumers and campaigners to make trade fair for farmers and workers. The international Fairtrade system represents the world's largest and most recognized fair trade system. Fairtrade is about better prices, decent working conditions and fair terms of trade for farmers and workers. When you buy a cup of Ravens Coffee Co coffee with the FAIRTRADE Mark, you support farmers and workers as they work to improve their lives and their communities. Our coffee is also certified Organic by the Organic Crop Movement Association (OCIA) which is dedicated to providing the highest quality organic certification services and access to global organic markets.
What's more, every cup of coffee you buy is helping improve the local ecology in the places the beans are grown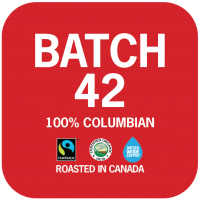 through the Water Wise Coffee® project. The Water Wise Coffee® project started by helping coffee producers in Ethiopia tackle the waste generated by wet mills by cleaning up the rivers that so many local people love and rely on. We do it in a sustainable, innovative way, using Vetiver grass and composting practices. Following the success of this project in Ethiopia it has since expanded to other areas of the world where coffee is produced so we can continue to support the environment that our beautiful products grow in.
Ravens Coffee Co is available at Loeb Cafe, Tunnel Junction, Bent Coin, and The Market in the University Center Food Court
Sunday, September 2, 2018 in General
Share: Twitter, Facebook